Return To The Home Page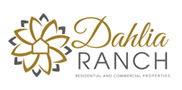 Dahlia Ranch, formerly Barioni Lakes Estates, is a mixed planned community development of over 1,000 acres on the North side of the City of Imperial in Southern California. Dahlia Ranch sits between State Highway 86 and Austin Road. The plans provide for over 2,000 homes and around 100 acres each of commercial and park space, along with more than 40 acres of lake water features among winding trails and roads. Included are elementary, middle, and high schools that can share joint use of facilities with the City. Heritage is the first phase of this community and is already under development.
Click image below for high resolution version.